Want to start a food blog that's highly profitable in today's competitive online space? There's no better way to do it than learn the secrets from the best money making food blogger in the business. Read on to find out who I'm talking about!
Blogging!
The word evokes thoughts of earning loads of money with little stress or effort! Its easy to do a Google search and discover that many ordinary people are making big money doing what they love by blogging about it.
But, if you get carried away with all that fancy talk and jump into blogging without a proper plan, you're doomed to fail. Any Google search will reveal how big businesses and popular bloggers failed overnight and eventually gave up on blogging.
But don't be discouraged.
Despite Google heavily penalizing websites, negative link building tactics crushing competitors, SEO services going awry, financial constraints and difficulties in finding the right people to hire for your blog, you can still start a blog and make money like a pro!
Best part is – you don't need to have any technical knowledge to get started.
Just the right guidance and support can make this possible!
If you happen to enjoy cooking for your family or loved ones, or have always wanted to start a food blog, you have an excellent opportunity NOW to get the right training from the experts.
Lindsay and her husband Bjork have been successfully running a food blog called Pinch of Yum for over 6 years now. They became so successful that they quit their full time jobs to become food bloggers.
Initially starting with an income of just $21.97 in 2011, Pinch of Yum today commands an income of over $60,000 a month. In fact, Pinch of Yum has been so successful that the duo regularly publish their income reports to inspire others and show the world that anyone can earn money running a food blog.
Better yet, the duo also have a highly successful Food Blogger Pro coaching program to help others learn how to start a food blog and monetize it!
The Food Blogger Pro program is not an open program. Enrollments happen only once or twice a year. So consider yourself lucky if you are reading this NOW!
Because Lindsay & Bjork are about to open enrollment for the program. Dates for the enrollment begin on Tuesday, June 20th through Tuesday, June 27th 2017.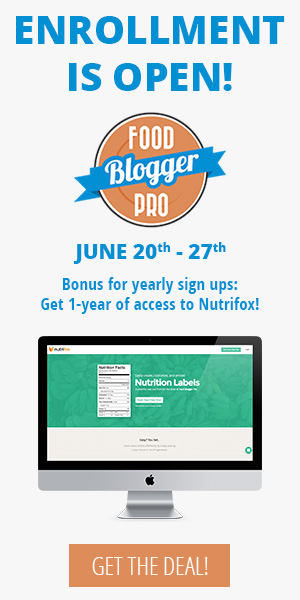 Signing up for the program is one of the best things you can do if you plan on starting a food blog.
Last Tuesday (Jun 13th) the ever-so-nice team from Pinch of Yum conducted a free online event called Recipe Video Bootcamp.
The Bootcamp offered a really good insight into what it takes to capture videos for a food blog. This was the agenda for the day.
10AM CST: Session 1 with Lindsay Ostrom – Shooting and Editing Recipe Videos on Your Phone
Lindsay teaches you how to shoot and edit a recipe video on your phone. Yes! It is possible! And proof that you don't need fancy equipment to get incredible recipe videos!
12PM CST: Session 2 with Alana Woolley – Shooting a Recipe Video with DSLR
Alana Woolley, Pinch of Yum's Video Specialist, walks you through the process of shooting a recipe video using your DSLR camera. She'll talk about the gear that you need to use as well as what you should pick for the different camera settings.
2PM CST: Session 3 with Alana Woolley – Editing a Recipe Video
Alana is back with tips on how to edit the footage captured in Session 2. She'll explain the basic concepts that you need to understand. The editing concepts you'll learn will work for any editing program!
4PM CST: Closing Q&A Session with Alana, Lindsay, and Bjork – Answering Your Questions About Recipe Videos
Alana, Lindsay, and Bjork will be hosting a Live Q&A call and answering any questions that you have about recipe videos. Anything is on the table! You can ask questions about how they shoot videos, how they edit videos, how they use those videos on social media, or how they partner with brands to do videos with sponsored content.
I signed up for the program and learned a ton of good stuff about shooting videos on the iPhone as well as really cool tips on using the DSLR. The team also offered some great ways to edit photos using just the iPhone as well as premium tools like Adobe Premier Pro.
What I really loved though, was the gear that the team were using to bring life, color and magic into their videos. If you happened to attend the program, good for you. If not you still have an opportunity to grab a chance to join the Food Blogger Pro coaching where you will gain a great deal more information on starting a food blog from scratch and working your way up to a much sought after brand.
---
---
How to Start a Food Blog with Food Blogger Pro
In the Food Blogger Pro program, you will learn how to set up a food blog and monetize it successfully. Or, you will realize that food blogging is not for you. Either way, you won't be doing all the wrong things while to set up your blog and that's equally important.
What's Included in Food Blogger Pro?
Okay. Now onto the good part. Food Blogger Pro offers:
Over 300 super easy videos that are designed to help newbies and food lovers set up their food blog.
An active community forum where you can meet fellow food bloggers, ask questions and get guidance and help from.
Exclusive discounts on tools and services made specifically for food bloggers.
Mobile-friendly lessons you can learn while on the go.
What You'll Learn in Food Blogger Pro?
Food Blogger Pro program focuses on teaching you all the essentials to setting up your food blog. In simple, words you will discover:
Tools For Food Blogging
All the best tools you'll need for starting your food blog
The tools that will help you create viral food videos
How to use the tools in Photoshop for your food blog
In fact, if you sign up for the yearly membership, you'll get a BONUS of 1-YEAR's Access to Nutrifox, the premium Nutrition Label generator.
---
---
Images and Optimization
Learn how to take beautiful photos with artificial light
Secrets to adjust the manual settings on your camera
Best ways to optimize your images
How to use Photoshop to enhance your images
Photo editing workflow tips and tricks
How to Generate Traffic to Your Food Blog
How to get traffic to your new blog with easy SEO tips
The best site architecture for your blog (permalinks)
How to create short branded URLs
Creating and submitting a sitemap
How to use FTP (You'll need this!)
Ways to use Google Webmaster Tools to improve your SEO
How to use anchor text in links the right way
Set up a branded email address
Keep your website data safe by doing backups (the right way!)
How to set up a caching plugin and CDN
Income Generating Tactics
How to generate income from eBooks
The best way to create Giveaways
The best way to use affiliate marketing
Is Food Blogger Pro Training for You?
Well, now that you have a pretty good idea of what to expect with the Food Blogger Pro program, is it the one for you? If you are still unsure about joining the program, ask yourself these questions:
1. Do you want to start a profitable food blog without experimenting with various strategies but don't know how?
2. Do you want a good sense of direction so you know exactly what to do when setting up your blog?
3. Do you want to connect to a powerful food community and get powerful insights and guidance every step of the way, at least initially until you are established?
4. Do you want the right strategies to getting more traffic and income?
If your answer to all of these questions is a resounding Yes! then this program is for you.
Or, if you want to create stunning recipes like this one, but its just not coming together for you, you need to enroll for Food Blogger Pro.
Starting a food blog doesn't have to be intimidating. If you have a passion for making money online, you have a great opportunity to learn from the best.
---
Help me Become a Food Blogger Pro
---
You'll know exactly what you'll learn in the Food Blogger Pro Program and if its worth learning!